SincoTech Automotive Speed Sensor Apply To All SincoTech Sensor Kit Series Gauges and Dashboards,including Sincotech DO904/907/908/909/912/916/922.
(If you can not get speed signal from ECU ,or ABS. you can take this speed sensor to install.  )
Product Name: speed sensor
Overall dimension: diameter 8mm
Detection method: inductance type (wire length 1.2m)
Model: embedded
Detection distance: embedded 1mm
Working voltage: DC6-36v
Output form: PNP three wire normally open
Tested object: metal (iron, steel, copper, aluminum, etc.)
Suit for SincoTech DO904/907/908/909/912/916/922/926.
During installation, the sensor can be embedded in the metal material, so that the metal surface is flush with the sensing surface, and the sensing distance is short.
Connection: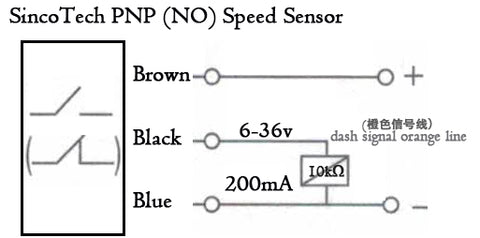 (Note: it is an inductive model, which itself does not need a magnet, and the induction distance is 1mm)